Day on the Ride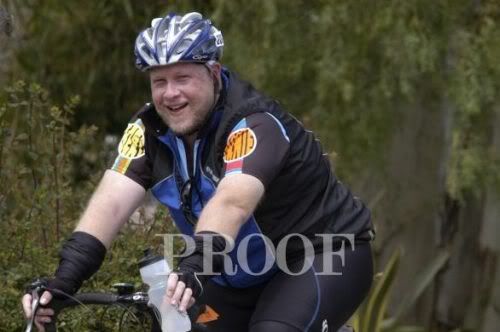 Saturday's LifeCycle Day on the Ride event was full of awesome. Except for the getting up at 5:00am part. That part can totally eat me. Though, considering I'll be getting up around that time on the event after spending the night in a tent (for six consecutive nights), I should probably stop complaining.
The morning was cool and breezy and I was really excited and a little nervous. I got to chat with
monkeypunk
and
garycotti
arrived soon after,and after checking in, we ate free food, did some stretching, and I almost had to get rid of some dude who was wearing the same Bert & Ernie jersey I had on.
It was a great rush to be on the road with hundreds of other cyclists. It offered me a little taste of what to expect in June, and it was a refreshing difference from training rides consisting of smaller groups.
The route started off nice and flat to the first pit stop. Shortly afterwards we climbed Hawthorne, a long, steep climb new to me and I'm happy to report I made it's ass bow down!
Lunch provided lovely grass to stretch out on, a cool ocean breeze and FOOD! A little leery of what a "catered boxed lunch" would taste like, I happily discovered that the food was great. That, or maybe I was so hungry it didn't matter what they handed me, I still would've eaten it and found it yummy. The following 20 miles after lunch were mostly flat, except for the last few miles which almost kicked my butt. Remind me to avoid riding near the port of Los Angeles and Carson again. Did we really have to ride past a sanitation plant? Uh, gross.
With just a tiny little bit of climbing out of pit 4, we descended down, down, down and enjoyed lovely flat terrain. Then, on mile 75, my tires skidded on a patch of sand on a bike path and I started to lose control. I braked and tried to clip out but my reaction time wasn't quick enough and I bit it. UGH! My first wipe out! Luckily I only ended up with a skinned knee and some road rash, but my bike was unfit to ride. I have to take it into the shop and have it adjusted this week before I can ride it again.
I called the dispatch number so they could radio a sweep vehicle to come pick me up. I felt embarrassed and disappointed that I wasn't going to be able to finish the last five miles. Afterwards,
garycotti
reminded me that I kicked ass on the rest of the route, and who cares if I missed the last five miles? They were flat and easy and I could've done them in my sleep!
While cleaning my wounds at home that night I thought, "There are people dying of AIDS who can't even get out of bed, or brush their teeth, or eat solid food, and isn't that why I'm riding? So hopefully one day we won't HAVE to ride? Of course it is, now stop being a big baby about it and suck it up. It's not like you broke an arm!"
God I can't wait until June.
Comments {10}